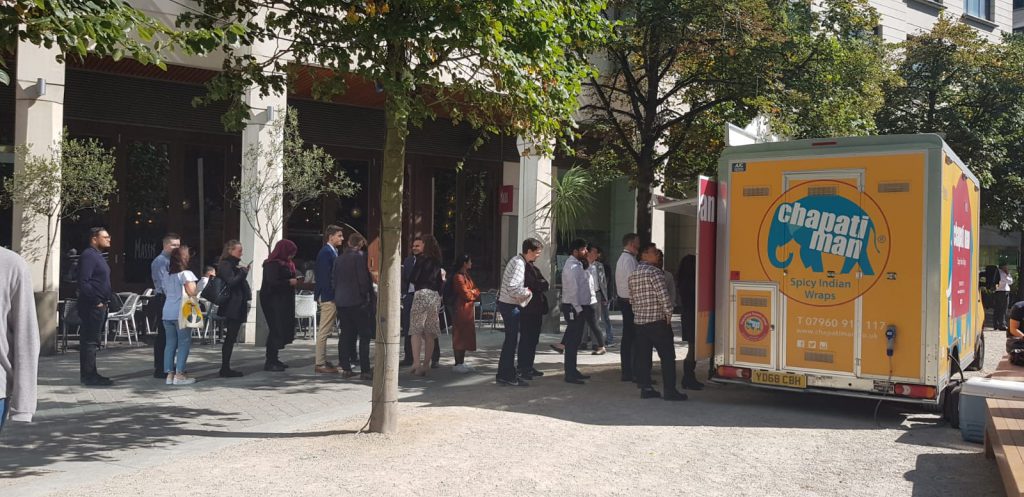 Chapati Man to begin mobile unit roll-out in New York
London-based street food Indian wraps concept Chapati Man will begin rolling out mobile units in New York this month.
Founded by husband and wife Chris and Andrea Rai in 2007, Chapati Man sold the master franchise rights for New York earlier this year to The Chaat Is Safe, headed by Tejas Vemparala.
Now the first food carts will be seen on the streets of Manhattan from Friday, 25 October with fixed food-to-go sites to follow soon.
Chris Rai said: "This is a huge statement for the Chapati Man brand and concept, and seeing the roll-out of mobile units in New York is a massive achievement. I can't wait to see our Indian elephant branding on the streets of the Big Apple.
"Here's to Chapati Man launching a herd of Chapati Man elephants in other US states soon." Vemparala added: "We are excited to introduce Chris and Andrea's story through Chapati Man to New York. Having been in this city for almost a decade, I know its on-the-go pace has created an excellent food cart culture year-round and I'm proud to be the steward for Chapati Man in New York City. Our first presence in Midtown East will be the first of many locations across all boroughs in New York."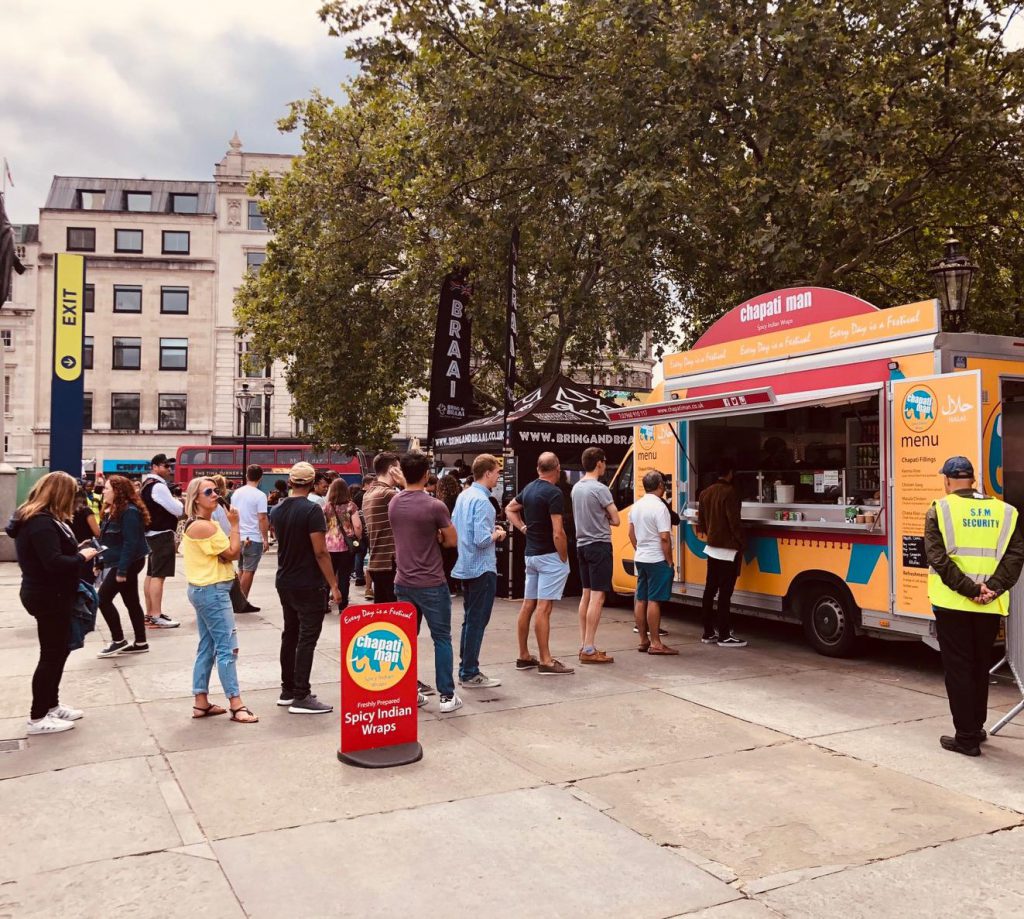 The Chapati Man Story!
Chapati Man was created by husband and wife team, Chris and Andrea in 2007. The idea came from Chris taking left-over curry in a wrap to work. Their love of music festivals inspired them to share with other party-goers, the authentic curry recipes Chris grew up with; still being made by Chris's mother Martha – and the Chapati Man brand was born!
The Chapati Man journey began in 2007 by selling Spicy Indian Wraps at major events and festivals in the UK. Having extended their fan base from all the major UK music festivals to the London street food scene and into the chiller shelves of major multiples such as Morrisons and Waitrose, Chris and Andrea felt that it was the right time to bring their freshly prepared 'festival-style' wraps to the rest of the UK (including London), Europe and worldwide. Chapati Man has recently pulled off major booming deals in selling the Franchise rights for London and Master Franchise rights for New York and Sri Lanka!
We had a chat with Chapati Man… Here's what we learned!
Q: Streetdots: When did you join the StreetDots platform? Had you been trading long in London before then?
. Chapati Man joined StreetDots in 2014 when Finsbury Avenue Square was the only dot on your books! Chapati Man had been a mainstay on the festival circuit (Glastonbury, Bestival, Camp Bestival, Lovebox and all!) since 2007.
Q: Streetdots: What made you want to start using the StreetDots platform?
We saw an article in the Evening Standard back in 2013 regarding StreetDots and how they wanted to help street food vendors in acquiring trading pitches across the capital and we thought Chapati Man would love to be a part of that. We contacted Lindsay at the time and she loved the Chapati Man brand, concept and set-up. Trying to obtain pitches, as an independent was not an easy thing to do in the capital, so StreetDots really helped bridge this issue to great effect.
Q: Streetdots: Do you think that this platform has helped with your growth? Can you tell us more about your time on the platform and what the best parts have been for you?
StreetDots has really helped Chapati Man in terms of our presence in London. Trading 3-4 times per week has been great for our brand awareness. We were on StreetDots' books for four years and still are via our London Franchisees, Chapati Man London Ltd. The booking system has changed a lot over this period from a manual booking process to booking via the app – there have been teething problems but this is understandable. The booking app overall is the way forward and seems to be getting better.
Q: Streetdots: What is your favourite 'dot' or trading spot?
Paddington, Sheldon Square was (and still is) our No.1 trading spot. Chapati Man has a great following there and we love going back!
Q: Streetdots: If you could start all over again, what food would you offer?
Chapati Man's Spicy Indian Wraps is our core product and would not change this. We could have offered Indian snacks (samosas etc) but our London franchisees now do to compliment our wraps!
Q: Streetdots: What are your future plans? Where would you like to be in 5 years time?
Q
As you most probably know, we launched a Chapati Man franchise model for the business a year or so ago and things are moving forward quickly. Chapati Man have pulled off major booming deals in selling the Franchise rights for London and Master Franchise rights for New York and Sri Lanka! We have more exciting news in the pipeline, so watch this space.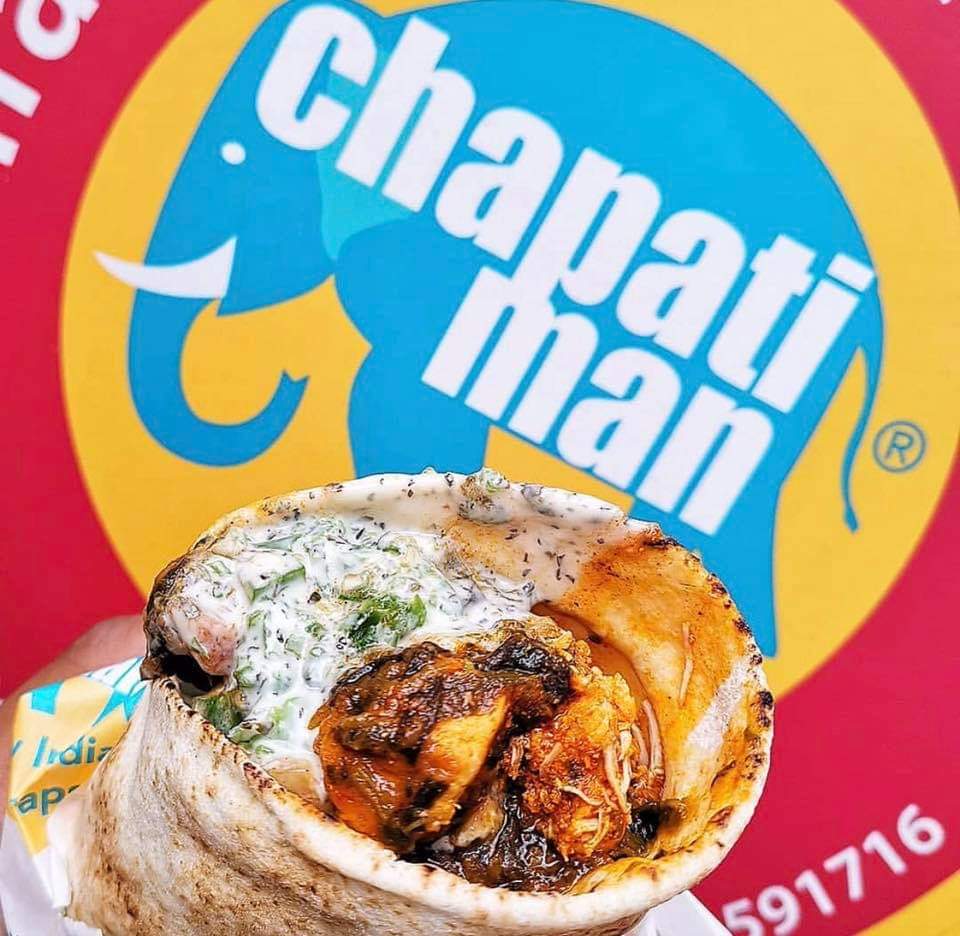 Want to try one of these now world famous wraps? Here is where they are trading via StreetDots in London for the next few weeks!